Program Design Support
To facilitate the process of designing a learner-centered curriculum we use the Program (Re)Design Model below (Fowler, et al., 2016). This faculty-led process brings together pedagogical experts and disciplinary experts as well as educational technology experts to create a data-informed curriculum that places student learning at the center. Programs designed using this comprehensive model are well-positioned for the accreditation process.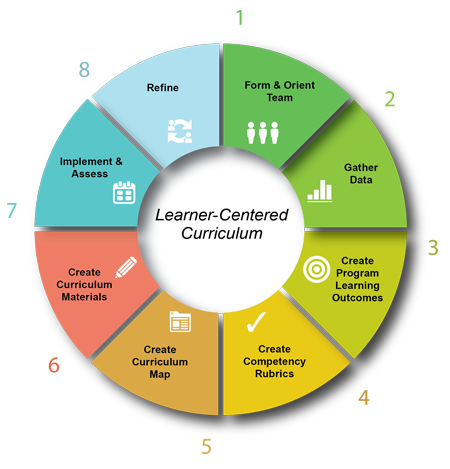 The drawers below expound on each step of the program design cycle.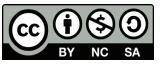 Program (Re)Design Model for a Learner-Centered Curriculum 2015 (updated April 26, 2018), created by Debra Fowler, Ph.D., Center for Teaching Excellence, Texas A&M University, is licensed under a Creative Commons Attribution-NonCommercial-ShareAlike License.
Constitute the development team (instructional support experts, i.e., instructional designer, instructional technologist, student academic support professional, media expert, assessment expert, librarian) that will support faculty and other subject matter experts
Develop timeline
Data sources offering evidence

Internal: student surveys; instructor surveys; focus groups; define perspective of discipline
External: review of peer institutions; alumni feedback; employer focus groups and surveys; job descriptions; accreditation/certification requirements

Identify target audience
Determine program/course type: credit/non-credit, certificate, micro-master, master, stackable courses
Program Goals are broad statements identifying learning parameters, content and relationships between content areas – what students should learn, understand, or appreciate as a result of their studies by the time they finish a program or a major.
Student Learning Outcomes (SOL) describe in concrete terms what program goals mean. SLO statements identify what students will be able to demonstrate, produce or represent as a result of what and how they have learned in a program. Unlike program goals, SLO's are not fixed. Assessment results will then be used to make required changes in the curriculum, pedagogies, faculty professional development, student support, or resource allocation. Learning outcomes too could be revised, modified or changed for a subsequent assessment cycle, etc., etc.
For additional information, visit the Program Goals and Learning Outcomes page or the Program Level Assessment page.
Competency Rubric: Once program learning outcomes (PLOs) have been created, the next step will be to create rubrics that outline the performance criteria for each outcome.  Rubrics define a student's developmental progression for each outcome throughout the degree program. They also serve as a means to evaluate student products at the overarching program level.
Curriculum mapping identifies where the program learning outcomes are introduced (I), reinforced (R), strengthened (S) and/or demonstrated (D). Courses are listed across the top of the map and outcomes along the side. The center of the map is completed by determining which courses/experiences will support the I, R, S, and/or D of each program learning outcome.
Identify teaching modalities best suited for fulfilling the identified learning goals
Identify and develop specific teaching strategies (incl. instructional technology tools, media tools, etc.) best suited for student learning and engagement 
Develop an assessment plan that answers these three questions: 

Which student learning outcomes will you assess? 
What evidence will you collect to determine learning effectiveness and gaps? 
How will you use the information to improve your program? 
Collect learning data (including learning analytics) for formative assessment
Adjust and fine-tune based on assessment feedback
Ongoing assessment will ensure that curriculum decisions are implemented effectively.
Fowler, D., *Bakenhus, C., Kothmann, *M., Macik, M., Poling, N., & *MacWillie, S. (2016). Redesigning natural resources curricula: A redesign process model at Texas A&M University. Natural Sciences Education.
 
Rogers, K., Green, E., Chaney, K., Macik, M., Turner, J., Keefe, L., Scallan, B., Korich, J., & Fowler, D. (2016). Beyond the AVMA-COE clinical competencies: Preparing future veterinarians. Journal of the American Veterinary Medical Association.
 
Fowler, D. A., & *Macik, M. L., & Kaihatu, J., & *Bakenhus, C. A. H. (2016). Impact of Curriculum Transformation Committee Experience on Faculty    Perspectives of their Teaching and its Influence on Student Learning Paper presented at 2016 ASEE Annual Conference & Exposition, New Orleans, Louisiana. 10.18260/p.25538
 
Fowler, D., *Macik, M. L., Sandoval, C., *Bakenhus, C., & *MacWillie, S. (2016). Program (re)design model: A sustainable, system-level approach to faculty development. Journal of Faculty Development.
 
Fowler, D., *Lazo, M., *Turner, J., *Hohenstein, J (2015). Facilitating Program,     Faculty, And Student Transformation: A Framework For Curriculum Redesign.  Journal of Transformational Learning. 3(1).
 
Brumbelow, J., Fowler, D., Morgan, J., & Anthony, W. (2015) Transformation of a Large Civil Engineering Department Curriculum Using the ASCE BOK2. 122nd Annual Conference and Expedition, Seattle, WA.
 
Fowler, D., Anthony, W., Poling, N., Morgan, J., and Brumbelow, J. (2014). Data-driven Curriculum Redesign in Civil Engineering. Paper accepted for 44th American Society for Engineering/Institute of Electrical and Electronics Engineers (ASEE/IEEE) Frontiers in Education Conference, Madrid, Spain.
 
Jarvis, H. D., Collett, R., Wingenbach, G., Heilman, J. L., & Fowler, D. A. (2012). Developing a foundation for constructing new curricula in Soil, Crop and Turfgrass Sciences. Journal of Natural Resources and Life Sciences Education, 41, 7-14. doi: 10.4195/jnrlse.2011.0015u
 
Fowler, D. A., Froyd, J. E., & Layne, J. (2010). Curriculum redesign: Concurrently addressing content mastery and development of cognitive abilities. Proceedings of the 40th American Society for Engineering/Institute of Electrical and Electronics Engineers (ASEE/IEEE) Frontiers of Education Conference, Washington, D.C.