Stephen Wilcox, Ph.D.
Senior Instructional Designer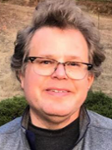 9500 Gilman Dr
Mail Code: 0175-W
La Jolla , California 92093
Profile

Stephen Wilcox has been active in higher education for more than two decades, working as an instructional designer, faculty developer/consultant, instructor, graduate assistant, trainer/presenter, and staff person. These diverse roles have prepared him to act as a pedagogical specialist, face-2-face/ online educator, administrator, trainer, curriculum planner, and digital content creator. Before joining UCSD's Learning Commons, Stephen was the Instructional Design & Faculty Development Manager at the Sue & Bill Gross School of Nursing (University of California, Irvine). He also works as an instructor for Mason Gross Online Arts Division at Rutgers University, teaching hundreds of online learners every semester.

Stephen received a Ph.D. in Music Composition at the University of Pennsylvania, an MA in instructional design and pedagogy at San Francisco State University, and is a certified Quality Matters Master Peer-Reviewer.